Orka Social Local SEO Service: Skyrocket foot traffic to your local business
Local search engine optimization (SEO) is a strategy that is hand-crafted for local businesses looking to increase their visibility in search engines, reach more customers, and of course — earn revenue.
Similar to traditional SEO, local SEO services focus on boosting your business listings in online search results.
When potential customers search businesses like yours in their area, you want to appear at the top of results.
Ultimately, local SEO helps achieve top rankings so more people can find and contact you — and visit your local business.
Wondering how you rank at the top of search results? Keep reading for our list of local SEO services, designed to boost your online rankings.
Want to speak with an Orka Socials strategist before reading on? Give us a ring at or contact us online
Why should you invest in our Local SEO service?
With the long list of services Orka Socials provides, it's hard to understand how it will all work together to impact your business. The short answer is — your local SEO campaign will impact your business in amazing ways.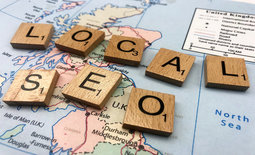 Searches including the words "near me" have increased by two times over the past year. That means that more and more people are looking for an easier way to find businesses close to them.
Not to mention that 72% of consumers who performed a local search on a search engine visited a store within five miles. This gives even more reason to optimize your website with local SEO because it shows that consumers are truly making decisions based on location, and how close they are to a business that offers what they're looking for.
If you want to be the business that shows up in your target audiences' search results, utilizing local SEO is the best way.
Here are some of the major benefits of local SEO:
More Foot-traffic to Your Physical Location
Local SEO solutions will also bring more foot-traffic to your location.
Many people will search for "restaurant near me" with the intention of visiting a restaurant close to them. That gives you the opportunity to show up in search results and attract them to your physical location.
Lower Competition
Local SEO is relatively non-competitive giving a wide opportunity for companies with the right strategy to jump in now.
Budget-Friendly
Local SEO is budget-friendly, as it's possible to achieve high rankings without a large amount of investment. Study after study has illustrated that SEO traffic is more convertible than most other online channels which ensures a good return on investment.
Google Wants You To Go Local
The changing landscape of search behaviour has forced Google to re-think how it presents users with search results for local searches. Local businesses have a huge advantage over large national brands by means of its local address and contact number.
Everything Is Going Mobile
There's a mobile app for almost everything now, and most pull data from local business listings such as Google Maps. Studies done by Flurry Analytics indicate that user's are now increasingly spending their mobile internet browsing time using mobile apps, rather than mobile web browsers.
What are the Local SEO services do Orka Socials include?
Some of the major services we offer under local SEO are as follows:
Google My Business Optimization/Map SEO
Local Citation Building
Keyword Targeting
Rating & Review Management
Link Building
Google My Business Optimization
Hallmarks of local search, Google My Business listings contain key information about businesses — and they appear when people search companies near them. For example, a quick search for "gadgets shop near me" yields the following results.
Best Pizza Shop Near Me Search
The listings at the top of search results make up Google's local SEO 3-pack. Searchers can see the locations of these gadget shops on the above map, and clicking the results displays in Google My Business listings.
These listings contain key information like a company's address, hours, website, phone number, and even images.
If you want your business to appear in Google's local SEO 3-pack, at the top of results, you need to claim and optimize your Google My Business listing. You'll also want to keep your business name, address, and phone number (NAP) information consistent across your online listings to improve your chances of earning a top spot in results.
Local Citation Building
In addition to claiming your Google My Business listing, you'll also want to build local citations.
These citations contain information like your company's name, address, phone number, and website.
Citation building campaigns can help you earn local listings on sites like Bing, Yelp, Foursquare, Facebook, Apple Maps, TripAdvisor, and even a local business directory.
Keyword Targeting
To rank at the top of local search results, you'll also need to target local keywords on your website and in your site content.
Let's look at an example.
If a dental practice in the Kentucky area wants to rank in more local search results, they could optimize their page titles, meta descriptions, and site copy to include the keywords "Top Kentucky Dentist" or "Award-winning Kentucky Dentistry."
In addition, the practice may consider creating some location-specific pages on their site. For instance, they could create a page for "Kentucky Dental Services," and highlight various dental services they offer to Kentucky residents.
Targeting location-based keywords can help your business appear in more local searches so people in your area can find and contact you.
Rating and Review Management
For local businesses, it's extremely important to monitor and respond to online reviews.
Ratings and reviews can appear on your website, as well as third-party sites like Google My Business, Yelp, and Facebook. Positive or negative, it's important that you reply to all reviews in order to show customers you take their needs seriously.
People look at reviews before visiting local businesses, so keeping your reviews updated and responding to questions and comments will encourage more people to visit your business.
Worried about putting in the time to manage your business reviews? Orka Socials offers online review management services to keep your digital presence in tip-top shape.
Link Building
Earning backlinks from other reputable, local businesses can also help to boost your local search rankings.
How do you earn links?
Start by creating valuable content that targets local keywords related to your business. If other sites like what they see, they can link back to your site in their own content.
Search engines like Google consider both the number and quality of backlinks when ranking sites.